04330 - PESAPA - Bear Hug™ PE Squeeze Tools - Hydraulic, Heavy-Duty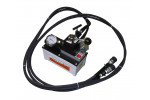 04330 - PESAPA - Bear Hug™ PE Squeeze Tools - Hydraulic, Heavy-Duty
Specifications
Description
Air-over-Hydraulic Pump for use with REED PES8BT and PES8BTM
Pneumatic powered hydraulic pump used to raise and lower the squeeze bars.
Uses foot pedal control for operator convenience and minimal effort.
Includes Flow Control Valve for fine squeeze and release speeds.
Operator to supply applicable air compressor. Required air flow to achieve standard speeds is 20 CFM. Required air pressure is between 100 - 120 psi.
12-ft hose allows pump to be placed out of the ditch at ground level.
¼" NPT air inlet thread connects air compressor and pump.