04328 - PES8BT - Bear Hug™ PE Squeeze Tool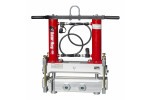 04328 - PES8BT - Bear Hug™ PE Squeeze Tool
Specifications
Description
Base Tool for Bear Hug™ PE Squeeze Tool System
Pipe/SDR Stops
98390 & 98391
pair of each
Base squeeze tool of the REED Bear Hug™ Squeeze Tool System.
REQUIRES either a manual hydraulic or air-over-hydraulic pump for operation.
Includes two sets of color-coded stops for North America (imperial) pipe sizes.
Double bar design for squeeze confidence and less residual impact on the pipe.
Massive 83,400 lb. (371,000 N) squeeze force.
Saddle bolts can be hand-threaded to mechanically lock the tool in the squeeze position.
Saddle clamps are mounted right to the unit for operator convenience.
Documents