Bear Hug™ PE Squeeze Tools - Hydraulic, Heavy-Duty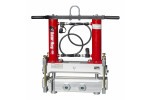 Bear Hug™ PE Squeeze Tools - Hydraulic, Heavy-Duty
Features
Heavy-Duty 8" Hydraulic PE Squeeze Tool.
Exerts 83,400 lb. (371,000 N) of force onto the pipe, for ultimate squeeze confidence.
Modular system allows choice of manual or air-over-hydraulic pump operation.
Base tool REQUIRES either a manual hydraulic pump or air-over-hydraulic pump for operation.
Optimized double bar design for superior flow control.
Easy-to-read, color coded stops prevent pipe damage caused by over squeezing.
Easy to use in line because bottom bar swings open to fit around pipe.