Bear Hug™ PE Squeeze Tool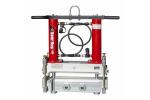 Bear Hug™ PE Squeeze Tool
Features
Modular PE Squeeze tool system allows choice of manual or air-over-hydraulic pump operation.
Double bar design for squeeze confidence.
Massive 83,400 lb. (371,000 N) squeeze force.
Weight conscious REED design is almost 100 pounds (45 kg) less than competitive model.
Includes two sets of color-coded pipe stops for North America (Imperial) pipe sizes.