08500 - RG6S - Portable Roll Groovers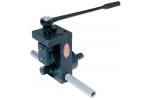 08500 - RG6S - Portable Roll Groovers
Specifications
Pipe Material
Steel, Stainless Steel, Aluminum, PVC
Pipe Capacity
in-nom.
1 1/4" - 6" Sch. 5S to 40
4"-6" PVC
-
Models manufactured 1/98 and later are equipped to groove PVC pipe also. See date of manufacture stamp near manufacturer's I.D. tag.
Features
Finger-adjust depth screw and gauge on RG6S for quick, accurate and repeatable groove depths.
Designed for portability.
Economical solution to jobsite grooving requirements.
Designed for use with Reed's 5301PD Power Drive.
Documents