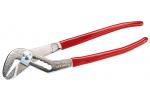 Water Pump Pliers
Water pump pliers Features
Designed for one-hand operation.
Built-in stop prevents hand injuries.
Angle nose, slip-joint plier style.
Specifications
Catalog No.
Item Code
Pipe Capacity
Length
Weight
in-nom.
actual O.D. mm
in
mm
lbs
kg
WPP10
02650
2" pipe, 1 1/2" slip nuts
63
10
255
0.9
0.4
More Information
Water pump pliers have a forged, slip joint design for one-hand operation. Pipe-wrench-style milled teeth, traditional 32° angle nose and zinc plating which inhibits corrosion. Water pump pliers are large enough to handle 1 1/2" slip nuts on traps and have maximum capacity of 2" nominal. Handles are always parallel, even with jaws fully extended.