02742 - TB3456 - Tubing Benders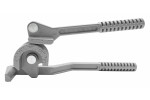 02742 - TB3456 - Tubing Benders
Specifications
actual O.D. in
3/16, 1/4, 5/16, 3/8
[1]
1/4" = 1/8" nominal, 3/8" = 1/4" nominal, 1/2" = 3/8" nominal
Features
For bending soft or annealed tubing only, including Copper Type K or L, aluminum, brass, steel and up to .032" wall (0.8 mm wall) stainless steel tubing.
Cover four tubing diameters (3/16", 1/4", 5/16", 3/8") with one tool.
Ideal for plumbing and HVAC applications because there are four sizes in one tool.
Ergonomic, offset handles allow bends up to 180 degrees.