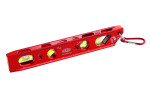 Torpedo Levels
Features
Levels with pitch, level and plumb measurements.
Magnetic base to sit flat and secure during leveling work.
Choose model based on intended use.
Specifications
Catalog No.
Item Code
Material
Size (in)
Description
Weight
lbs
kg
LV9PLB
06213
Aluminum
0.7 x 1.3 x 9
Plumbing Use
0.5
0.2
LV6WW
06214
Aluminum
0.7 x 1.25 x 6.5
Waterworks Use
0.3
0.1
More Information
REED's torpedo levels are convenient for jobsite use due to their modest size. Choose from the general use LV9PM with three spirit tubes, the waterworks LV6WW with 4 vials, or the 9 inch plumber's version LV9PLB also with 4 vials. Each one measures pitch, level and plumb. Each torpedo level features a V-groove edge to set on pipe or conduit. The torpedo level is a great choice for close quarters and provides true measurements in easy-to-read vials.