04760 - TRC1S - Threaded Rod Cutters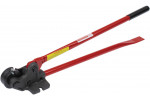 04760 - TRC1S - Threaded Rod Cutters
Specifications
Description
Ships with 3/8" dies; purchase other dies to cut 5/16" or 1/4" threaded rod also
Features
Design allows one die size to be loaded at a time.
22.5 inch handle for leverage.
Mounting hole and slots in lower handle provides a permanent mounting option.
Heat-treated dies for durability.
Tool will fit the most common threaded rods found in the United States which are 1/4-20 UNC, 5/16-18 UNC, 3/8-16 UNC, 1/2-13 UNC, depending on die installed in tool.
Comfort grip on upper handle.