98167 - CP15FINESCRN - Pump Stick® - Screens, Strainers & Filters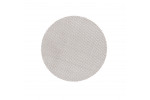 98167 - CP15FINESCRN - Pump Stick® - Screens, Strainers & Filters
Catalog No.:
CP15FINESCRN
Features
Screen removes small particles before water enters the Pump Stick®.
Filters out anything larger than .021" from entering the pump. This is about the size of sugar granules.
Operator must check screen during use to keep it clear for best pump action.
Install screen inside end cap to keep secure during use.