98168 - CP15FILTER - Pump Stick® - Screens, Strainers & Filters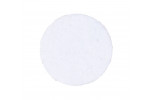 98168 - CP15FILTER - Pump Stick® - Screens, Strainers & Filters
Specifications
Description
Felt Filter, 100 Micron
Features
Filter removes small particulates before water enters the Pump Stick®.
Filters out anything larger than 100 microns (approximately .004") from entering the pump. This is about the size of flour.
Felt filter must be used with screens #98166 or #98167 to keep felt in position.
Install screens or filters inside end cap to keep secure during use.
Operator must check filter during use to keep it clear for best pump action.