98198 - CP15CRSCRN - Pump Stick® - Screens, Strainers & Filters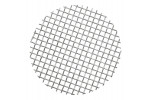 98198 - CP15CRSCRN - Pump Stick® - Screens, Strainers & Filters
Features
Screen removes small particles before water enters the Pump Stick®.
Filters out anything larger than .094" from entering the pump. This is about the size of a mustard seed.
Operator must check screen during use to keep it clear for best pump action.
Install screen inside end cap to keep secure during use.