Pump Stick® - Battery Adapter Plates & Batteries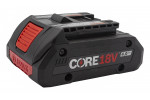 Pump Stick® - Battery Adapter Plates & Batteries
Features
Battery Adapter Plates provide popular battery options for REED Pump Stick®.
Adapter plates fit 18V-20V lithium ion batteries for battery brands such as Bosch®, Makita®, Milwaukee® or DeWalt®.
Swap the plate to fit common, current slide style batteries – be sure to match the plate to operator's battery brand.
For strength, battery adapters plates are constructed of Delrin® or glass-filled polycarbonate.
NOTE: Battery adapter plates are offered as a convenience item and are not endorsed or warrantied by the battery manufacturers.
Specifications
Catalog No.
Item Code
Description
Weight
lbs
kg
2AHBAT
98186
18V 2.0Ah Battery BOSCH® for REED
0.8
0.4
4AHBAT
98185
18V 4.0Ah Battery BOSCH® for REED
1.4
0.6
8AHBAT
98197
18V 8.0Ah Battery BOSCH® for REED
2.2
1.0
BCHRG
98187
Charger for 18V BOSCH® batteries
1.5
0.7
CPAPBOSCH
98139
Battery Adapter Plate, fits most BOSCH® 18V slide style batteries
0.2
0.1
CPAPDEW
98140
Battery Adapter Plate, fits most DEWALT® 18V-20V slide style batteries
0.12
0.05
CPAPMIL
98141
Battery Adapter Plate, fits most MILWAUKEE® 18V slide style batteries
0.2
0.1
CPAPMAK
98149
Battery Adapter Plate, fits most MAKITA® 18V slide style batteries
0.16
0.07