08140 - CP15-38B - Pump Stick® Cordless Water Transfer Pump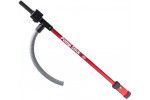 08140 - CP15-38B - Pump Stick® Cordless Water Transfer Pump
Specifications
Description
CP15 Pump with 2Ft Hose and Coarse Screen - Base Model
Battery Adapter Plate and Battery NOT included
Features
Rugged, contractor grade, impact-resistant Acetal Copolymer parts and aluminum body for durability and strength.
Includes 2 foot, industrial grade hose and coarse screen.
Pumps 15 gallon/minute with fully charged battery.
Choose the required battery adapter plate to work with operator's 18V – 20V slide style battery.
This base model does not include battery adapter plate or battery.
Documents