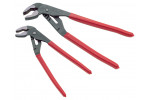 Positive Grip Pliers
Features
Offset head design reaches into tight areas and allows for better leverage.
Top and bottom jaw "v" shape permits pliers to grip a wide variety of shapes.
Superior fastener surpasses traditional nut and bolt tightness issues.
Pliers offer seven groove positions.
Specifications
Catalog No.
Item Code
Pipe Capacity
Length
Weight
in-nom.
actual O.D. mm
in
mm
lbs
kg
PGP10
02655
1
35
9.5
245
0.7
0.3
PGP12
02656
2
63
12.0
300
1.5
0.7
More Information
Positive Grip Pliers offer a combination of jaw design, offset head, handle, and tongue-and-groove design. They only requires downward pressure on handle, no squeezing, once pliers are engaged. Smooth tongue-and-groove action makes these the most effective pliers on the market for one-hand operation. Patented rib prevents finger pinching. Positive grip pliers are forged from high quality, high carbon steel and fully heat-treated for long life.