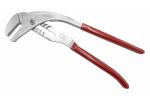 Pipe Wrench Pliers
Pipe Wrench Pliers Features
Reach into tight areas with more leverage than traditional plier jaws.
Pipe Wrench Pliers offer five groove positions.
Specifications
Catalog No.
Item Code
Pipe Capacity
Length
Weight
in-nom.
actual O.D. mm
in
mm
lbs
kg
PWP13
02620
2
63
14
357
2.2
1.0
More Information
The 90° jaws of Pipe Wrench Pliers permit reaching into tight areas and also provide up to 20% more leverage than traditional jaws. Pipe wrench pliers feature tongue-and-groove construction forged from alloy steel, fully heat-treated, and zinc-plated for strength and corrosion resistance. Self-gripping, pipe-wrench-style teeth give ratchet-like action for turning fittings. Built-in handle stop eliminates pinched fingers.

REED pipe wrench pliers have a screw and a nut, rather than a rivet (like many competitors) to remove play and to permit cleaning as needed. For one-hand operation, the handles are parallel, even when the jaws are fully extended.