Multi-Purpose Pipe Joiner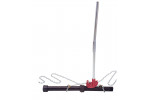 Multi-Purpose Pipe Joiner
Features
Join gasketed pipe up to 14" nominal diameter.
Specifications
Catalog No.
Item Code
Capacity
Weight
in-nom.
actual O.D. mm
lbs
kg
PJ414
08080
4 - 14
102 - 355
34.0
15.5
NOTE: Not for use with solvent cement joining of plastic pipe.
More Information
PJ414 Multi-Purpose Pipe Joiner allows a basic lever-and-chain approach to joining medium and large gasketed pipe and fittings up to 14" size. It works for PVC, ductile iron, clay tile, cast iron soil pipe and concrete pipe. Use two PJ414's for heavier pipe. Quarter-inch proof coil chain is rated at 1600 lbs (727 kg). PJ414 pipe joiner comes complete with two 12' (3.7 m) lengths of chain, two grab hooks, plus a two-piece extendable handle of over 4 feet that allows for a variety of applications.
Documents