Mechanical Hot Tapping Machines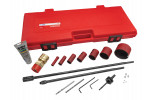 Mechanical Hot Tapping Machines
Features
Hot tap steel, copper, brass or aluminum pipe for installing branch connections from 3/4" to 4" valves.
Pressure rated 300 psi for ambient temperatures or 15 psi for steam systems.
Eliminates the need to shut down, drain, cut, refit and refill piping systems.
Watertight seal to allow drilling under pressure.
Commercial and industrial applications.