02307 - R450GB - Discontinued Vises
This item has been discontinued.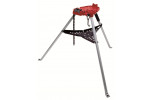 02307 - R450GB - Discontinued Vises
Features
For weight critical use, R450GB Tripods feature aluminum legs.
Great tripod option for light-duty pipe work.
For strength, they have overlapping hinges.
Raised edge on bottom tray helps keep tools and parts ON the tray.
Like all Reed tripods, they have the best adjustable tray clamp, not a set screw, to keep the lower tray assembly and entire portable workbench tight – even after many hours of use!
R450GB weighs just 27.6 pounds and has a comfort grip at the carrying point for easy manual transport.
R450GB's light weight makes it a popular choice for firefighter use!
Documents