97511 - UPCBPVC - Universal Pipe Cutter Blades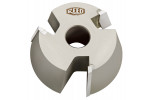 97511 - UPCBPVC - Universal Pipe Cutter Blades
Specifications
Description
PVC Bevel Cutter Accessory
Pipe Diameter
6"- 48" (150-1300 mm)
-
Long arbor #97561 is required for use with this bevel cutter since cutter has 1 1/4" blade thickness.
-
Used with UPCARB4 or UPCARB6 cut-off blades.
This accessory for REED Universal Pipe Cutters (UPC) produces a 15 degree bevel on PVC pipe, including C900 PVC.
To cut and bevel simultaneously, UPCBPVC bevel tool is used with REED UPC blades: 97510, 97514, 97519, 97520.
Bevel tool accessory features three carbide cutting edges for long life.
UPCBPVC bevel tool cuts up to 1-1/8" long bevel; adjust the bevel length by setting the UPC blade's depth of cut.
Thickness of UPCBPVC supports forces when the bevel accessory is heavily engaged.