47506 - AFRK - Universal Pipe Cutter Accessories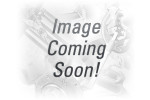 47506 - AFRK - Universal Pipe Cutter Accessories
Specifications
Accessory
Air Filter Rebuild Kit
Modular design makes filter replacement simple.
Kit contains the necessary parts to rebuild FRL air filter.
Keep air flow clean and dry by using an in-line air filter.
Replace filter after every 50 hours of cutting time, or when it is noticeably dirty.
Filter helps protect pneumatic motors from contamination.
Improved water separation efficiency extends the service life of filter elements.