03487 - T20 - Tubing Cutters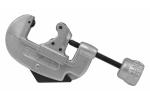 03487 - T20 - Tubing Cutters
Specifications
Capacity O.D.
actual O.D. in
5/8 - 2 1/8
Application
Aluminum, Brass, Copper, Steel Tubing
-
Approved for use at AWWA Tapping Contest.
[1]
Ships with "O" wheel for copper. To cut plastic pipe, order recommended cutter wheel (OP2 or 1-2PVC) separately.
Features
Aluminum construction reduces the weight of the cutter.
Flip-out reamer on edge of body for operator convenience.
Large grip knob permits easy adjustment of feed screw.