03483 - T10 - Tubing Cutters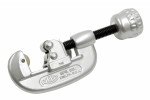 03483 - T10 - Tubing Cutters
Specifications
Application
Aluminum, Brass, Copper, Steel Tubing
[1]
Ships with "O" wheel for copper. To cut plastic pipe, order recommended cutter wheel (OP2 or 1-2PVC) separately.
Features
Simple feed screw design aids in cutter durability in tough environments.
Internal reamer built inside knob for operator convenience.
Large grip knob permits easy adjustment of feed screw.
Wide rollers work to minimize burrs by smoothing the cut area.