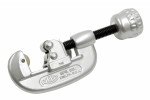 Tubing Cutters
Features
Large grip knob for hand comfort during use.
Internal reamer in T10 and T15 grip knob for operator convenience.
For lighter weight, T20 features aluminum construction.
Specifications
Catalog No.
Item Code
Capacity O.D.
Cutter Wheel

[1]

Application
Weight
actual O.D. in
actual O.D. mm
lbs
kg
T10
03483
1/8 - 1
3 - 25
O
Aluminum, Brass, Copper, Steel Tubing
0.9
0.4
T15
03485
3/16 - 1 1/4
4 - 32
O
Aluminum, Brass, Copper, Steel Tubing
1.3
0.6
T20

[2]

03487
5/8 - 2 1/8
15 - 54
O
Aluminum, Brass, Copper, Steel Tubing
1.3
0.6
[1]
Ships with "O" wheel for copper. To cut plastic pipe, order recommended cutter wheel (OP2 or 1-2PVC) separately.
[2]
Approved for use at AWWA Tapping Contest.
More Information
Tubing cutters are a simple, durable design. Each tubing cutter has a screw feed with a large grip knob to make it easier to tighten the cutter. T10 and T15 cutters are zinc alloy construction with a built-in reamer for convenient cutting and deburring. T20 cutter is larger but light due to its aluminum construction. T20 cutter features a fold-out reamer. Wide rollers on all three cutter models yield a square cut while thin cutter wheel profile ensures a quick, clean cut.

Sturdy T10, T15, and T20 models are long-lasting due to their reinforced construction.