03481 - TC11SS - Tubing Cutters for Stainless Steel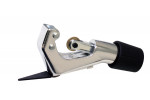 03481 - TC11SS - Tubing Cutters for Stainless Steel
Specifications
Capacity O.D.
actual O.D. in
1/8 - 1 1/8
Application
Stainless Steel Tubing
-
Includes spare cutter wheel.
Features
Specialized steel cutter wheels are designed for toughness and heat dissipation.
Telescoping cutter design is a great choice for tight spaces.
Easy action, fold-out reamer, grooved rollers, and spare cutting wheel.
Enclosed feed screw keeps cutter at a consistent size throughout the cut.