03477 - T15SS - Tubing Cutters for Stainless Steel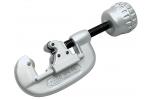 03477 - T15SS - Tubing Cutters for Stainless Steel
Specifications
Capacity O.D.
actual O.D. in
3/16 - 1 1/4
Application
Stainless Steel Tubing
Features
Specialized steel cutter wheels are designed for toughness and heat dissipation.
Ergonomic grip knob on T10SS, T15SS and T20SS cutters.
Long cutter wheel life as cutter wheels are built for stainless steel.
Telescoping TC11SS is a great choice for tight spaces.