03477 - T15SS - Tubing Cutters for Stainless Steel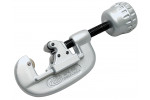 03477 - T15SS - Tubing Cutters for Stainless Steel
Specifications
Capacity O.D.
actual O.D. in
3/16 - 1 1/4
Application
Stainless Steel Tubing
Specialized steel cutter wheels are designed for toughness and heat dissipation.
Simple feed screw design aids in cutter durability in tough environments.
Ergonomic grip knob for user comfort.
Long cutter wheel life as they are manufactured for cutting stainless steel.
Wide rollers work to minimize burrs by smoothing the cut area.