Tubing Cutters for Stainless Steel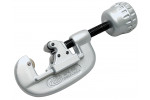 Tubing Cutters for Stainless Steel
Features
Specialized steel cutter wheels are designed for toughness and heat dissipation.
Ergonomic grip knob on T10SS, T15SS and T20SS cutters.
Long cutter wheel life as cutter wheels are built for stainless steel.
Telescoping TC11SS is a great choice for tight spaces.
Specifications
Catalog No.
Item Code
Capacity O.D.
Cutter Wheel
Application
Weight
actual O.D. in
actual O.D. mm
lbs
kg
T10SS
03476
1/8 - 1
3 - 25
OSS
Stainless Steel Tubing
0.9
0.4
T15SS
03477
3/16 - 1 1/4
4 - 32
OSS
Stainless Steel Tubing
1.4
0.6
T20SS
03479
5/8 - 2 1/8
15 - 54
OSS
Stainless Steel Tubing
1.5
0.7
TC11SS

[1]

03481
1/8 - 1 1/8
3 - 28
75046
Stainless Steel Tubing
0.7
0.3
[1]
Includes spare cutter wheel.
More Information
REED tubing cutters are equipped with special wheels for stainless steel. REED wheels for stainless tubing use specialized steel for toughness and heat dissipation, resulting in long wheel life. T10SS, T15SS and T20SS tubing cutters offer a large knob for firm grip and easy turning, along with an internal reamer in the knob. TC11SS telescoping tubing cutter includes a fold-out reamer and spare wheel for stainless tubing.

Only REED offers such a wide variety of professional quality cutters with wheels for stainless installed. No more early replacement of the first wheel!