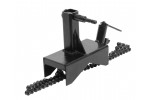 Saw It® Vise
Features
Used with the Saw It® Pneumatic Saw to provide stability to the cut.
Allows the saw to pivot straight into the pipe, giving the operator better control over the cut.
Recommended accessory for the Saw It® Pneumatic Saw.
Specifications
Catalog No.
Item Code
Description
Capacity

[1]

Weight
in-nom.
actual O.D. mm
lbs
kg
SAWITVISE
04600
Safety Arm
4" - 12"
102 - 305
14.0
6.4
[1]
Capacity is dependent on blade and chain extensions.
Documents