Saw It® Pneumatic Reciprocating Saw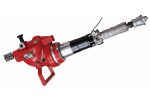 Saw It® Pneumatic Reciprocating Saw
Features
Saw It® pneumatic reciprocating saw is a good choice for cutting plastic and steel pipe and a great cutting tool for hard-to-reach places.
Safety deadman switch for instant off when throttle is released.
Pneumatic (air) motor eliminates electric shock hazard.
No fumes like gas powered cut-off saws.
Site preparation requires less excavation than some cut-off tools.
Continues to function underwater, in severe in-ditch environments, unlike electric or gas powered tools.
Saw It® Vise and Saw It® Blade Guides should be added for extra stability.
Blades sold separately. Use Reed's Power Hack Saw Blades.