93222 - RC8-30XR - Rotary Pipe Cutters Accessories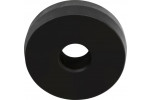 93222 - RC8-30XR - Rotary Pipe Cutters Accessories
Specifications
Description
Outboard Roller for RCX Cutter Wheel Only
Features
93222 Outboard Roller is a specially designed roller for use with the RCX cutter wheel only.
93222 roller has a smaller diameter, which allows the longer profile of the RCX wheel to penetrate steel or stainless pipe wall up to 0.8 inches (20.3 mm).
As with all LCRC or RC cutters, a total of eight outboard rollers is required per cutter.