Rotary Pipe Cutters Accessories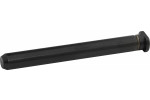 Rotary Pipe Cutters Accessories
Specifications
Catalog No.
Item Code
Description
RC8-30WP
93200
Wheel Pin
RC8-30OR
93220
Outboard Roller
RC8-30XR
93222
Outboard Roller for RCX Cutter Wheel Only
L4427-12
40147
Release Pin for LCRC cutters
L4495-12
93172
RIght-hand turnbuckle for LCRC cutters
L4999-12
93173
Left-hand turnbuckle for LCRC cutters
More Information
The wheel pin is universal to all REED LCRC and RC cutters. It is used to hold the wheel in place and allows for easy change of wheels, whether from old to new, or from wheels for steel to wheels for cast/ductile iron, which gives these cutters their useful versatility. (Note: the RC36S and RC42S cutters are only for steel.) REED strongly recommends changing all four cutter wheels simultaneously for optimum cutter performance.
The 93220 outboard roller is for use with all cutter wheels except the RCX wheel. Each cutter wheel requires two outboard rollers for a total of eight per cutter.
The 93222 outboard roller is a specially designed roller for use with the RCX wheel only. When using RCX wheels, it is critical to change the outboard rollers from 93220 and use only the 93222 roller. The RCX wheels are designed to cut thicker-walled pipe, and the 93222 roller has a smaller diameter, which allows the longer profile of the RCX wheel to penetrate steel or stainless pipe wall up to 0.8 inches (20.3 mm). As with all LCRC or RC cutters, a total of eight outboard rollers is required per cutter.
To cut only thicker-walled steel or stainless steel pipe, order cutters with the "X" designation (such as LCRC8X), because these come automatically equipped with the RCX wheels and 93222 rollers.