03274 - RC42X - Rotary™ Pipe Cutters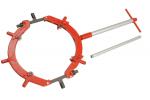 03274 - RC42X - Rotary™ Pipe Cutters
Specifications
Pipe Capacity
Cast & Ductile Iron in-nom.
-
actual O.D. mm
1016 - 1067
Sch. 80 Stainless/ Extra Heavy Steel 42"
[1]
Includes pipe schedule listed plus all lower schedules of same pipe type.
Features
Pipe snaps off squarely once the operator completes the cut.
Excellent for cold cuts.
Designed to cut large diameter pipe.