03265 - RC42S - Rotary Pipe Cutters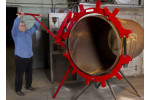 03265 - RC42S - Rotary Pipe Cutters
Specifications
Pipe Capacity
Cast & Ductile Iron in-nom.
-
actual O.D. mm
1016 - 1067
Sch. 80 Stainless/Extra Heavy Steel 42"
[1]
Includes pipe schedule listed plus all lower schedules of same pipe type.
Features
Features
RC42S cuts 40 – 42" nominal diameter steel pipe.
Features a long handle with a ratcheting mechanism and include a separate, professional-grade wrench to tighten the cutter at every half revolution.
Pipe breaks off squarely once the operator completes the cut.
Heavy-duty frames.
Only requires 11.8 inches clearance.
Works best with 2 people.
Documents