Repair Kits for Tubing Cutters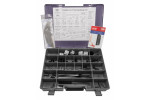 Repair Kits for Tubing Cutters
Features
Great choice for distributor repair counters or contractor maintenance departments.
Get contractors back to work with these common spare parts for tubing cutters and shears.
More Information
REED offers a variety of repair kits for tubing cutters. RPRKIT contains the parts, except body, for all Reed TCQ and TCQP sizes 1 through 6. It also contains blades for ratchet and scissor shears. It is a great choice for distributor counter repairs or maintenance departments. Simple field repairs can be handled with 1-2 Parts and 3-4-6 Parts repair kits which are plastic bags containing the most popular parts for Quick Release™ Cutters. Common spare parts for T10, T15 and T20 cutters are contained in T10-T15-T20 Parts repair kit.
Documents