03430 - TC3Q - Quick Release™ Metal Tubing Cutters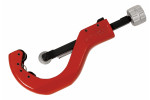 03430 - TC3Q - Quick Release™ Metal Tubing Cutters
Specifications
Capacity O.D.
actual O.D. in
3/8 - 3 1/2
Application
Aluminum, Brass, Copper, Steel Tubing
Features
Quick Release™ is a REED invention and still the industry standard for tubing cutters.
Features include quick release, quick advance, and manual advance, along with the ball detent wheel pin.
Quick release trigger on sliding bar zips open for quick cutter removal.
Simple cutter wheel change permits cutter use on a wide variety of pipe or tubing.
Cutter design yields best tracking and smooth operation.
Documents