03416 - TC1.6Q - Quick Release™ Tubing Cutters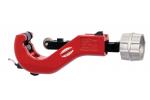 03416 - TC1.6Q - Quick Release™ Tubing Cutters
Specifications
Capacity O.D.
actual O.D. in
1/4 - 1 5/8
Application
Aluminum, Brass, Copper, Steel Tubing
-
Spare "O" Cutter Wheel in knob.
Features
Quick Release™ is a Reed invention and still the industry standard.
Features include quick release, quick advance, and manual advance along with the ball detent wheel pin.
Simple cutter wheel change permits use on a wide variety of pipe/tubing types.
Built-in reamer and spare cutter wheel in the knob on TC1Q, TC1.6Q, TC2Q.
Documents