Quick Release™ Metal Tubing Cutters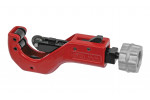 Quick Release™ Metal Tubing Cutters
Features
Quick Release™ is a REED invention and still the industry standard for metal tubing cutters.
Features include quick release, quick advance, and manual advance, along with the ball detent wheel pin.
Quick release knob on sliding bar allows fast tool placement or removal on pipe to be cut.
Simple cutter wheel change permits cutter use on a wide variety of pipe/tubing types.
Built-in reamer and spare cutter wheel in the knob on TC1Q, TC1.6Q, TC2Q.