04597 - Z2108 - Power Hack Saw Blades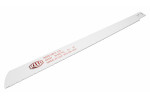 04597 - Z2108 - Power Hack Saw Blades
Features
Cut copper, steel, stainless steel, aluminum, and harder plastics like PVC and ABS.
Wavy set teeth provide clearance for the blade to pass through the cut.
The blade should be 6 inches (152 mm) longer than the pipe diameter; Z2108 blade will cut a max pipe diameter of 15 inches (381 mm).