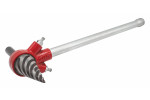 Pipe Reamer
Features
Self-feeding, spiral pipe reamer starts easily into pipe.
Dual pawls for extra tooth engagement.
Durable, hardened tool steel cone on pipe reamer for maximum cutting life.
Manual tool designed for pipe reaming efficiency.
Specifications
Catalog No.
Item Code
Pipe Capacity
Weight
in-nom.
actual I.D. mm
lbs
kg
2 - 71
06060
1/8 - 2
3 - 50
6.7
3.0
More Information
Pipe Reamers are used to deburr steel pipe before threading. The pipe reaming cone is made from tool steel and hardened for maximum life. Unique cutting edge makes this spiral pipe reamer self-feeding and easy to start and operate. Double pawl ratchets allow half the rotation to engage the teeth. The two pawls work to alternately engage the ratchet teeth and apply force, for optimal pipe reaming. There are thirteen teeth, equally spaced for best tooth engagement. This manual pipe reamer tool requires less work for faster results in pipe reaming.


This REED invention has two pawls for faster action and for pipe reaming work in tight places - requires half the space of competitive pipe reamers.
Documents