03306 - LCRC4I - Low Clearance Rotary Pipe Cutters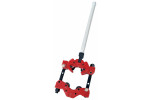 03306 - LCRC4I - Low Clearance Rotary Pipe Cutters
Specifications
Pipe Capacity
Cast & Ductile Iron in-nom.
2 - 4
Application
Cast/Ductile Iron
Features
Cuts 2 – 4 inch cast iron and ductile iron pipe.
Change the cutter wheels to use this model to cut steel pipe.
Features a slip-on handle that is used to both tighten and turn the cutter around the pipe in one direction.
Only needs 4 inch (102 mm) clearance around the pipe which means these tools cut pipes that other tools cannot reach.
Heavy-duty, ductile iron frames.
Documents