03144 - H8X - Hinged Pipe Cutters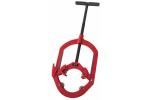 03144 - H8X - Hinged Pipe Cutters
Specifications
Steel/Stainless Steel Sch. 40 & 80
Sch. 80 Stainless/Sch.120 6"
Sch. 80 Stainless/Extra Heavy Steel 7"
Sch. 80 Stainless/Sch. 80 Steel 8"
[1]
Includes pipe schedule listed plus all lower schedules of same pipe type.
Features
Another Reed invention that needs only 4" (102 mm) of clearance around pipe.
Efficient handle swing of only 90° to 110°.
Opens with hinge to place cutter around the pipe.
Can be used anywhere - in the ditch, underwater, overhead, in racks of pipe!
Documents