03148 - H8SHH - Hinged Pipe Cutters with Helper Handles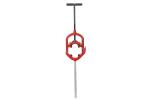 03148 - H8SHH - Hinged Pipe Cutters with Helper Handles
Specifications
Copper
Sch. 80 Stainless/Sch. 80 Steel 6"
Sch. 40 Stainless/Std. Steel 7"
Sch. 40 Stainless/Sch. 60 Steel 8"
[1]
Includes pipe schedule listed plus all lower schedules of same pipe type.
Features
"Helper handle" allows two people to make a team effort for bigger, tougher cuts.
Great choice for cutting well casing.
Efficient handle swing of only 90° to 110°.