04431 - DEB200 - Deburring Tool - Inner / Outer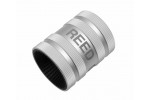 04431 - DEB200 - Deburring Tool - Inner / Outer
Specifications
Capacity
in-nom.
3/8 - 2 CTS I.D./O.D.
3/8 - 1 1/2 IPS I.D./O.D.
actual O.D. mm
10 - 54 I.D./O.D.
Application
Copper, Aluminum, Steel & Stainless Steel
Features
Deburr inner and outer diameters with one tool.
Knurled hand grip keeps tool secure in operator's hand.
Used for water service lines, copper pipe installations, plumbing lines, radiant heating and gas lines.