Deburring Tool - Inner / Outer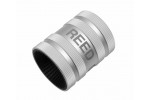 Deburring Tool - Inner / Outer
Features
Deburr inner and outer diameters with one tool.
Knurled hand grip keeps tool secure in operator's hand.
Used for water service lines, copper pipe installations, plumbing lines, radiant heating and gas lines.
Specifications
Catalog No.
Item Code
Capacity
Application
Weight
in-nom.
actual O.D. mm
lbs
kg
DEB200
04431
3/8 - 2 CTS I.D./O.D.
3/8 - 1 1/2 IPS I.D./O.D.
10 - 54 I.D./O.D.
Copper, Aluminum, Steel & Stainless Steel
1.1
0.5
More Information
REED's Inner/Outer Deburring Tool, DEB200, deburrs and reams both the inner and outer diameters using one tool. This double-ended deburring tool works for copper, aluminum, steel and stainless tubing from 3/8" – 2" (10-54 mm) I.D./O.D. Multiple cutting edges on the inside of either end provide smooth deburring operation. Knurled rings on the surface allow operator a firm grip during use. The tool is used for copper pipe installation, plus with metal pipe found in water service lines, plumbing lines, radiant heating and gas lines.
Documents