03376 - TCKCW - Cutter Wheels for Tubing Cutters - Metal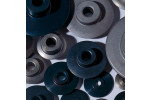 03376 - TCKCW - Cutter Wheels for Tubing Cutters - Metal
Specifications
REED Cutter
TCK3SL; TC5075SLR; TCK50SLR; TCK75SLR; TCK1SLR; TC50SL; TC75SL; TC1SL; TC50SLR; TC75SLR; TC1SLR
Application
Copper (K, L & M); CTS CPVC
[1]
Cutter wheels sold to distributors in standard package quantities only!
[2]
Blade Exposure determines wall thickness capacity of cutter wheel.
Fits
REED
TC1SL; TC50SL; TC75SL; TC1SLR; TC50SLR; TC75SLR;TCK50SLR; TCK75SLR; TCK1SLR; TC5075SLR
Features
Cutter wheels fits REED TCK series C Cutters.
Suitable for Copper (K, L & M) and CTS CPVC tubing.
Cutter wheel is made from high shock-resistant tool steel.
Thin profile of wheel cuts easily and leaves little burr.