03413 - TCK75SLR - C Cutters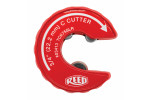 03413 - TCK75SLR - C Cutters
Features
Compact c-shape means no handle swing space is required.
Spring-loaded cutter self-feeds on copper and CTS CPVC.
Easy-to-grip cutter easily snaps on to copper tubing for a quick, clean cut.
Turn the cutter in the direction of the arrow and the cut will be complete in seconds.
Consistent pressure is maintained as the tool is turned manually around the tubing.