03414 - TCK1SLR - C Cutters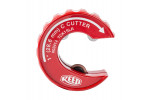 03414 - TCK1SLR - C Cutters
Features
Compact c-shape means no handle swing space is required.
The spring-loaded cutter wheel self-feeds on copper and CTS CPVC.
Easy-to-grip cutter readily snaps on to 1 inch tubing for a quick, clean cut.
Turn the cutter in the direction of the arrow and the cut is complete in seconds.
Easy-to-grip cutter with body nubs allows best control of cut by operator.