03403 - TC5075SLR - C Cutters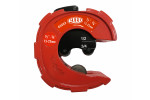 03403 - TC5075SLR - C Cutters
Features
Fits multiple copper pipe diameters with one cutter.
Offers the convenience of a low clearance cutter with adjustable size functionality of a traditional tubing cutter.
Simply twist the handle on the top of the cutter to adjust for tubing size, including metric sizes.
To cut popular ½" and ¾" copper tubing, adjust to the position marks on the black frame.
Cuts Copper Type K, L & M plus CPVC CTS tubing.
Includes USA-made, hardened steel, REED Cutter Wheel.
Compact c-shape means no handle swing space is required.