03320 - 2-1 - 2" Pipe Cutters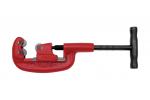 03320 - 2-1 - 2" Pipe Cutters
Specifications
Application
Steel/Stainless Steel Sch. 40; Galvanized Steel
-
2RBS wheel for steel/stainless steel provided in original cutter. 2RBHD heavy-duty wheels available for steel and stainless steel. 2RBCI wheels for cast iron available by special order.
Features
Square cuts on steel, stainless steel, galvanized or cast iron pipe with designated REED cutter wheel.
Wide rollers eliminate OD burr.
Short handle for close quarters.
Cutter model 2-1 requires full rotation around pipe.