2" Pipe Cutters with Guides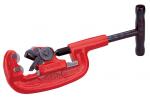 2" Pipe Cutters with Guides
2" Pipe Cutters with Guides Features
Spring-tensioned guide bars provide square alignment for cutters.
Guide makes the cutter more stable on pipe.
Specifications
Catalog No.
Item Code
Pipe Capacity
Cutter Wheel
Application
Length
Weight
in-nom.
actual O.D. mm
in
mm
lbs
kg
2-4WG

[1]

[2]

03338
1/2 - 2
21 - 63
2RBS
Steel/Stainless Steel Sch. 40; Galvanized Steel
14.3
362
7.2
3.3
[1]
2RBS wheel for steel/stainless steel provided in original cutter. 2RBHD heavy-duty wheels available for steel and stainless steel. 2RBCI wheels for cast iron available by special order.
More Information
REED offers Pipe Cutters, both with and without guides. Exclusive guide bars on 2-4WG are the best way to get a square cut on pipe since the bars hold the cutter square to the pipe during the cutting process. Guide bars also help secure the cutter to smooth stainless steel and corroded pipe. Use of a guide is more reliable than trying to estimate the cut. These cutters work on steel, stainless steel, galvanized steel or cast iron pipe, depending on the installed cutter wheels. (Models ship with cutter wheels for steel.)
Pipe Cutters with Guides feature strong malleable iron frames. They use the thinnest cutter wheels made of high quality tool steel to make cutting easier and faster. These sharper cutter wheels allow shorter handles for work in smaller spaces. These pipe cutters leave no burr, which is great for threading jobs.

Guide bars on the 2-4WG are exclusive to REED and the best way to get a square cut on stainless steel and corroded pipe. The guides make the cutter more stable on the pipe, thus reducing motion wear on the wheels.
Documents