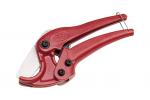 04175 - RS1PLT - 棘轮塑料管剪刀
规格
容量
实际外径尺寸
1 1/4" nom. IPS
(1.66" actual O.D.)
特性
Ratchet Shears are ideal for cutting PE, PP, PEX, and ABS pipe and tubing.
Its corrosion-resistant, nickel-plated, steel blade yields optimum performance and blade life.
One-hand RS1 models offer a 7-step ratchet mechanism for best mechanical advantage and smoothest operation.
Replace or resharpen blades for longer tool life and faster cuts.